Spot what you like first. Then make you way to approaching the woman. To approach women with your body language it has to be consistent with your attitude, you have to spot what you like and go for it. Make sure you look around, to see if she has a boyfriend or husband. It is not worth the trouble if she does. Use your body language to invite her to you, by facing her, and exhibiting inviting movements. Make eye contact with hear. This must happen. She must visually acknowledge you. When approaching women do not hesitate or waste time you must be sharp and to the point or you will miss the opportunity.
Time is of the essence
You must say hello to her immediately.
No time to think about it.
If she is across the street you can wave or gesture to her to wait for you.
You must be aggressive about this.
Even if you have to shout hello from across the parking lot she will appreciate you boldness.
My point is that you have a very short window.
Think about the basketball shot clock.
That's right 24 seconds.
Approach anxiety
One word. Get over it. This one sticking point will stop you from living your dreams. In your mind, think of yourself as a giant and everyone else as little people. Think of you and her being on the street alone. You can think of your self as a great actor, acting out a play for the street audience. Put on the swagger walk and meet that girl now. That's it.
Opening the conversation
You can open with just about anything. Talk about something relevant to the situation. Make her laugh, because that breaks down the defense barriers. One good way of opening this up is to talk about something completely irrelevant to the situation, something nonsensical. This will force a laugh and is thought provoking. You must appear comfortable because if you are not she will not be comfortable. This is key.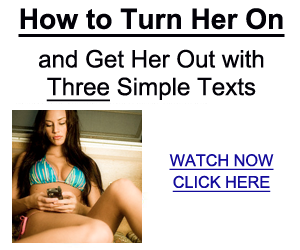 Getting the number
Just ask her for it. I have got numbers from chicks within 24 seconds. I have done it many times. Here is what to do. Just ask her for her number. Whether you get the number in 24 seconds or in 20 minutes, you are still getting the number. For the street game, I suggest getting the number right away because time is not on your side.
The daytime is one of the best times to approach women. Use my 5 Tips On Approaching A Woman In The Daytime to pick up women during the daytime.
Approach women with your body language,
Gregory B